Connect people to good stuff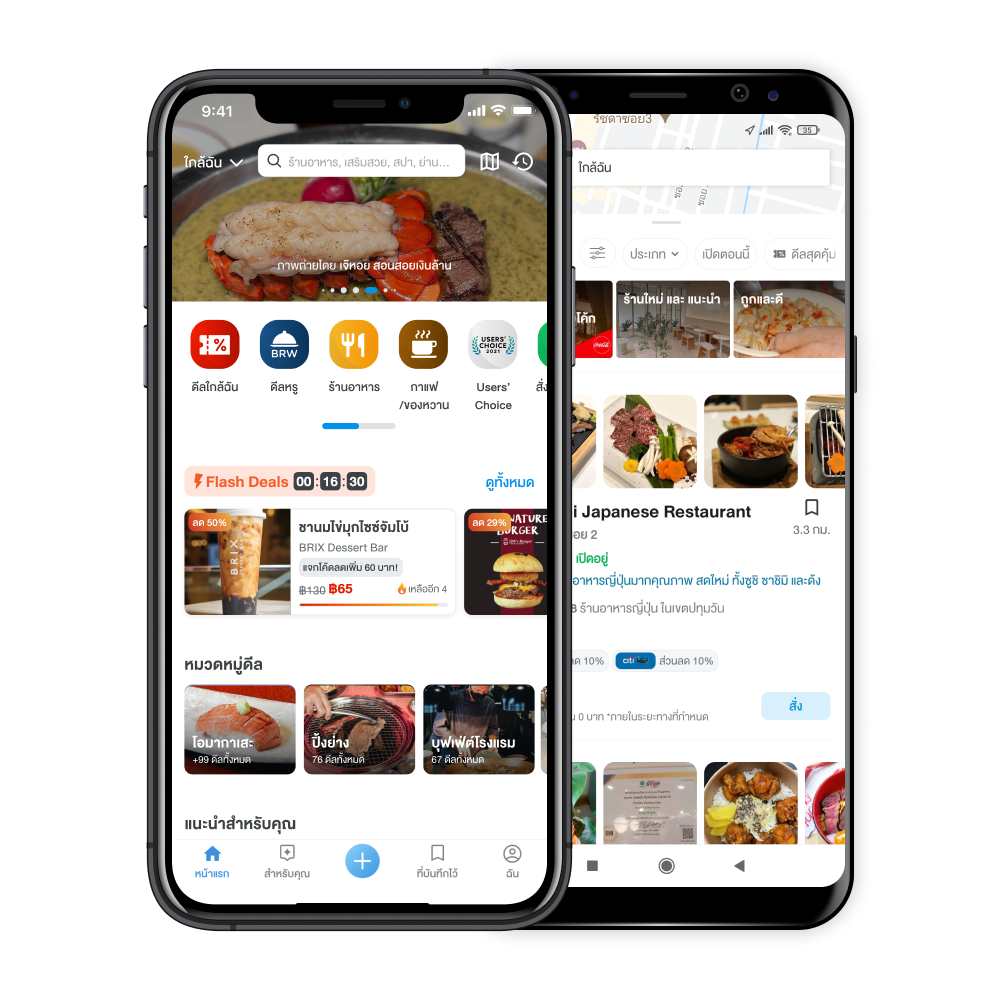 About Us
Wongnai, Thailand's leading super-lifestyle platform, has connected people to good stuff through its comprehensive content and users' reviews on restaurants, recipes, beauty, and travels.
Delivering remarkable contents and services via its website and mobile application, Wongnai has developed seamless O2O (Online-to-Offline) services for consumers' everyday life and Wongnai POS solutions for restaurant owners.

At present, Wongnai has served more than 10 million monthly active users. It has also owned the largest restaurant database in Thailand, covering more than 900,000 eateries. Wongnai is now merged with LINE MAN as the new entity called "LINE MAN Wongnai" with goal to become Thailand's No.1 E-commerce platform for services.
Our Vision
"Connect People to Good Stuff"
Our Mission
"To serve as Thailand's leading super-lifestyle platform & connect people to good stuff
through comprehensive content and users' reviews "
Our Core Values
Innovate Faster
We have the expertise and autonomy to create
Go Deeper
We try harder and go the extra mile
Respect Everyone
We treat people with dignity and consideration
Our Services
Wongnai's Milestones
Struggle
2010-2012
Wongnai was established on 12 July 2010. Its five co-founders namely Yod Chinsupakul (CEO), Pattrawoot 'Boy' Suesatayasilp (CTO), Suparit 'Boy' Krityakien (Chief Architect), Worawee 'Parn' Sattayavinij (Head of Product) and Ekaluck 'Louis' Viriyakovithya (COO) were classmates during their years at the Chulalongkorn University's Faculty of Engineering. After graduation, Yod furthered his study at the UCLA Anderson School of Management in the United States where he had regularly used Yelp.com in finding interesting eateries. He therefore was inspired to develop such website in Thailand too because the country had not yet had any.

The first year of Wongnai was really tough, as it struggled with various obstacles. The number of restaurants in its database was still relatively small and there were not many reviews from users. As Wongnai at one point could not attract a user, it took some other jobs to keep its operations afloat.
Hypergrowth
2012-2014
In 2012, things turned around for Wongnai. It became the fastest-growing Thai startup as smartphone usage caught on in Thailand with people using Wongnai widely. As the number of Wongnai users increased remarkably, so did restaurant information on its database. The Golden Age of Thai Startup also began. Wongnai itself joined a Pitching Competition to present its business model to investors. Wongnai, as a result, became widely known not just among people but also among investors.

Between 2013 and 2014, Wongnai received Series A funding twice from Recruit Strategic Partners of Japan's big corporate Recruit Holdings. Wongnai therefore could invest further in product development and marketing, which in turn drove its significant growth. The number of Wongnai users skyrocketed from tens of thousands to the tune of millions. In just a few years, the number of reviews increased by several folds and traffic flow jumped by dozens of times.
Expand & Diversify
2014-2018
In 2014, Wongnai expanded its business operations to provincial cities namely Chiang Mai, Khon Kaen, Korat, Chon Buri, Hua Hin, Hat Yai and Phuket. In the following years, it had also diversified its services with a touch of innovations. It launched various new services in response to Thais' lifestyles as follows:
2015: Wongnai Beauty
2016: Wongnai x LINE MAN
2017: Wongnai Cooking
2018: Wongnai Travel

In 2016, Wongnai received Series B funding from Intouch via Invent project. This funding round marked the biggest investment in Wongnai. Also, it was the first time that Thailand's Venture Capital flowed to a Thai startup.

In 2018, Wongnai joined hands with FoodStory in launching Wongnai POS by FoodStory. Designed to connect entrepreneurs to consumers via Wongnai, SCB Easy and LINE MAN, it is an efficient restaurant-managing system.
Building End-to-end Food Ecosystem
2019-2020
Starting 2019, Wongnai has been transforming itself into an O2O Platform to seamlessly connect various services to consumers' daily lives. Presently, Wongnai has already introduced many Online-to-Offline services. It is firmly committed to being the ultimate "super-lifestyle platform" for Thais' everyday life.
In July 2020, it is a new leap for Wongnai again. LINE MAN and Wongnai received USD110 million (approx. THB 3,300 million) investment from BRV Capital Management and officially announced the new merger called "LINE MAN Wongnai" in September 2020. Committed to becoming the No.1 E-commerce platform for services in Thailand by building the best end-to-end food ecosystem, LINE MAN Wongnai brings together the full range of food-related services, including restaurant reviews, ordering and delivery services, other commuting services, and restaurant solutions.


National Champion
2021-Now
After the merge, LINE MAN Wongnai has geared up to expand its service nationwide. In November 2021, Food Delivery service has covered all 77 provinces in Thailand. Then, Messenger sevice has followed in June 2022.
LINE MAN Wongnai announced that it has raised US$265 million in a Series-B investment round led by GIC, Singapore's sovereign wealth fund, and LINE Corporation. This fundraising round was also joined by BRV Capital Management, PTT Oil and Retail Business Public Company Limited (OR), Bualuang Ventures and Taiwan Mobile.
With this investment, LINE MAN Wongnai has achieved a valuation of over US$1 billion, making it Thailand's largest tech startup by valuation. The funding will be used to strengthen LINE MAN Wongnai's strong position in the food delivery market, expand new service categories, recruit tech talent and improve tech infrastructure for becoming the National Champion.